F117W Gulf of Mexico-West Electronic GPS SD Card of the West part of the F117 Gulf of Mexico Map for Garmin Machines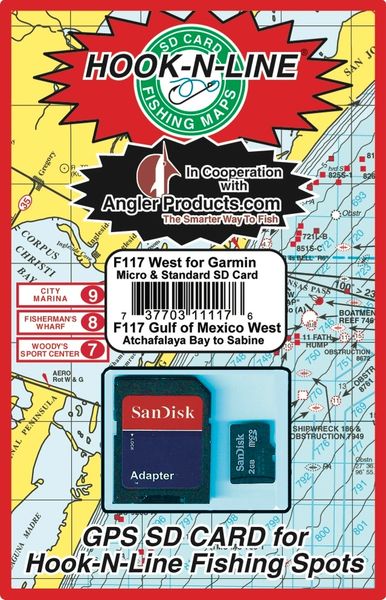 F117W Gulf of Mexico-West Electronic GPS SD Card of the West part of the F117 Gulf of Mexico Map for Garmin Machines
F117W coordinates for Garmin Machines.
This little SD card plugs directly into your electronic GPS unit and downloads all fishing information with GPS coordinates taken from the paper Hook-N-Line offshore Gulf of Mexico Map F117. F117W covers western areas from Atchafalaya Bay, LA to Sabine, TX. Note that map F117 had to be split into two parts because some navigation machines have a 1000 waypoint limit...the paper map F117 has over 1300 waypoints! Your electronic GPS unit will now have the F117 Western map GPS coordinates for Oil-Gas platforms and numbered lease blocks which are shown for the whole map area. Plus, there are over 650 GPS locations for surface platforms, wells, sunken wrecks, artificial reefs and other underwater structure that provide good fishing for all kinds of fish species. Once you have downloaded all our coordinates, each spot will display as a symbol and a label shown on top of the built-in map already in your electronic GPS unit.* Please note that only fishing information having GPS coordinates will be downloaded. After downloading is complete, the SD card can be removed and kept in a safe place.
* Your GPS unit should come with a built-in map of your fishing area.