F108 Matagorda Bay Fishing Electronic GPS SD Card of the Matagorda Bay Area for Simrad Machines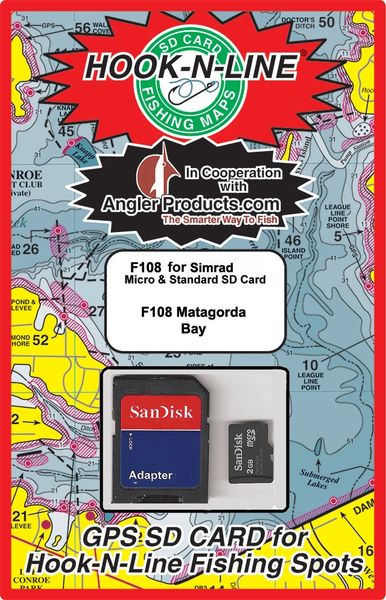 F108 Matagorda Bay Fishing Electronic GPS SD Card of the Matagorda Bay Area for Simrad Machines
F108 coordinates for Simrad Machines.
This little SD card plugs directly into your electronic GPS unit and downloads all fishing information with GPS coordinates taken from the hard copy Hook-N-Line F108, Matagorda Bay area map. Your electronic GPS unit will now have the F108 map GPS coordinates for fishing spots, oyster reefs, marinas, boat ramps and other points of interest for East and West Matagorda Bays, Lavaca Bay, The Jetties, Espiritu Santo Bay, Sargent, and the Pt O'Connor area. Once you have downloaded all our coordinates, each spot will display as a symbol and a label shown on top of the built-in map already in your electronic GPS unit.* Please note that only fishing information having GPS coordinates will be downloaded. After downloading is complete, the SD card can be removed and kept in a safe place.
* Your GPS unit should come with a built-in map of your fishing area.