F103-A Galveston Bay Wade & Kayak Fishing Online Map App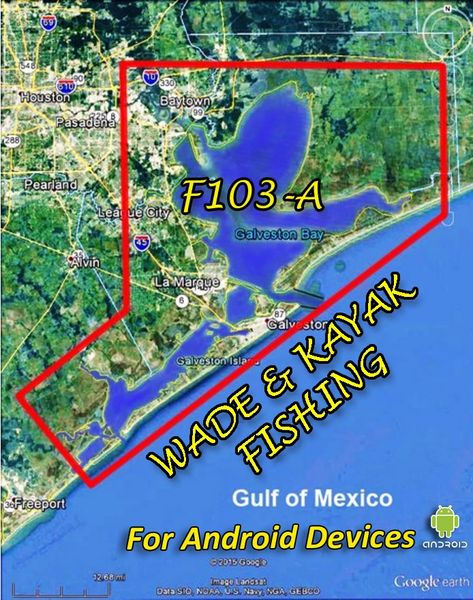 F103-A Galveston Bay Wade & Kayak Fishing Online Map App
NOW AVAILABLE FOR ANDROID DEVICES!!!!!

This Online Map App will also be available for Apple devices in the near future.
A digital inshore saltwater Wade & Kayak Fishing Online Map App of the Galveston Bay, Texas area, designed for your Android mobile device. This Online Map App is an accurate Wade & Kayak Fishing Online Map App just like the Hook-N-Line F103 & F104 Galveston Bay "hard copy" maps. All the water details shown on the "hard copies" F103 & F104 maps such as wade fishing spots for the "boat-less" fisherman are shown on the App. Also, there are many out of the way wade fishing locations accessible only by boat. In addition, water depths, reefs, fishing areas, channels, navigation aids, marinas, boat ramps and other symbols are duplicated and laid on top of a Google Earth image. Your position on the map is shown as a little blue dot that moves around as you drive your boat from place to place on the bay.
You can access the Online Map App from your Android Mobile device or your Computer.
Copy and Share Notice
All "Map App" products obtained from Hook-N-Line Map Company, Inc. are for use on one computer only. Sharing, giving or selling of "Map App" products and/or user names and passwords are prohibited. Hook-N-Line Map Company, Inc. security software is able to detect computer sharing. The result of this sharing will be the loss of the customer's user name and password which will prevent the customer from accessing the Hook-N-Line "Map App".